Providing VIP/Concierge Anti-Aging & Body Sculpting Services in the Privacy of Your Own Home
Welcome to Positive Transformation! If you are looking for a way to turn back time…you can recapture your youth with a holistic homeopathic alternative which uses state of the art technology. No pain, no surgical procedures, just instant results! The treatments reverse your skins aging process at a cellular level. Our treatments help to eliminate wrinkles, tighten saggy skin, lift sagging eyelids, get rid of cellulite and helps you to lose weight and inches. Treatments are provided to you right in the comfort of your own home or office. All of our clients are thrilled with their results and happy. We are so sure you will be happy with your results, we are the ONLY company with this technology offering a FREE TRIAL TREATMENT!
Call us today to schedule your FREE TRIAL! One of our professionally trained service providers will help you decide on your ideal treatment area, educate you about the procedures available and see for yourself the results, which are immediate!
Harnessing the power of cold laser, red light and radio frequency combined together to give your skin the ultimate rejuvenation. Well known celebrities use these exact treatments as their secret weapon to staying young! These treatments are the latest in non-invasive, non-surgical procedures. These treatments are the secrets of the stars. Treatments increase skin cell growth, collagen and elastin production, oxygenation and circulation creating a more youthful appearance, turning back time, and giving you glowing, smooth, beautiful and tight skin! The treatment is quick and painless with no downtime.
Relax, Uplift, Rewind and Recharge….Reiki energy healing, sacred crystals and sacred geometry symbols are infused into your treatment adding to your total Positive Transformation. During your treatment you will be transported to a new level of consciousness with soothing solfeggio tones which help to surround you in loving positive energy. We welcome you and look forward to uplifting your body, mind and soul with Positive Transformations in every way! Namaste!
Contact Positive Transformation today to schedule your treatment and you will feel great and look great too!
Real People, Non-Surgical Results
Non-Invasive, Non-Surgical, Instant Results
The powerful Tri-Channel technology improves elasticity, strengthens collagen and elastin production, improves skin tone appearance, fades wrinkles and fine lines. Resurfaces skin to fade scars and shrink pores, improves circulation and overall health of the skin, for noticeably younger looking skin. Helps to clear acne and supports the healing process. Tightening and sculpting helps you to achieve a more chiseled jaw line getting rid of a double chin.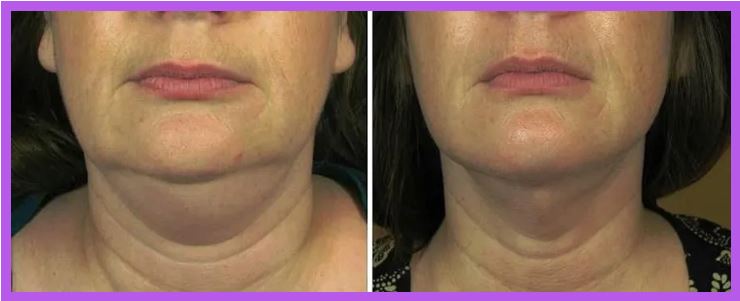 No Pain, Lose Inches & Weight
Body Sculpting treatment modalities diminish cellulite by reducing dimpling and bumps. Helps to reduce inches and weight. Stubborn fat cells are targeted with revolutionary technology and broken down and eliminated through the excretory system. Non-surgical and non-invasive providing superior results immediately. Most clients typically see the difference in their clothing after their first treatment.
One of the most positive benefits to our Body Sculpting treatments is that there is no downtime and treatments are painless. No need for anesthesia. No bruising or swelling, no negative effects, just great results.
Beauty Industry Professionals Agree
Experience Your Positive Transformation Today!